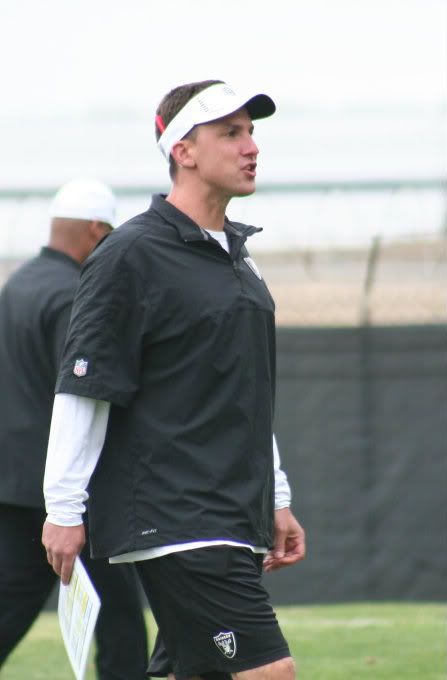 The Raiders 2012 offseason took another step forward today with the first day of a 3 day minicamp running through Thursday.  As always, TFDS will attempt to sift through all of the information that comes from the camp and use it to predict what it means for 2012 and beyond.
First, much may be made about the fact that the Raiders had 100% participation.  I in no way wish to take away from that but it's not such an amazing feat given that it was a mandatory camp and there are no big contract disputes that would cause any players to stay away from camp.  In fact, in minicamps around the league this week, participation will be close to 100% except for the odd player - like Maurice Jones-Drew with the Jaguars - who is attempting to put pressure on the team by staying away.
The biggest news of the day occured fairly early on in camp.  Denarius Moore made a cut on a route and fell to the ground in pain.  A trainer came and helped him off the field and he eventually went back into the clubhouse.  It looked like it was likely a tweaked hamstring of some unknown severity.
Coach Allen didn't think that it would be too much of an issue - "He's going to be fine," Allen said. "We'll evaluate it. Usually those things take a couple of weeks or so, so we'll see where he's at." - however, an injury to Moore isn't good.  Plus, it was a hamstring injury that kept him sidelined for part of last season.
The good news?  Moore can be shut down now, heal, and be ready to go in 6 weeks for the Raiders minicamp at the end of July.
In the meantime, all is not doom and gloom for the wide receiver corps.  Rookies Juron Criner and Rod Streater continue to stand out from the crowd at the position.