Don't quit on these Oakland Raiders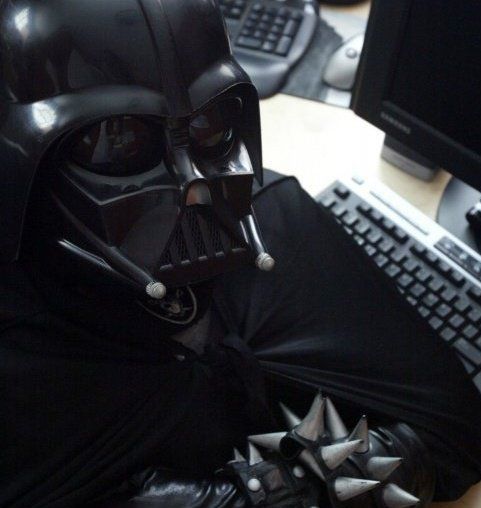 Editors note: I am proud to introduce to the Dark Side, Raider Nation Superfan himself; Darth Raider. Yes, THAT Darth Raider. The man in the black suit and cape who sits in the North endzone opposite the Black Hole aptly named "The Dark Side" merely because of his presence. He is home at last to take his post on the Deathstar at Thoughts From the Dark Side. The force is strong with this one so before he begins remotely choking me out, I will hand the controls over to the artist formerly known as Anakin Skywalker, the Lord of the Sith; Darth Raider.

Never Quit.

You win, you lose, you rise, you fall, but you must never quit.

You don't cash it in on one lost hand, you don't just block-but counter, you don't lie down after a knockdown and I repeat; YOU NEVER QUIT.

Sure, it's easy to say that the Oakland Raiders did quit from many fans point of view... a couch, a La-Z-Boy or a stool. But I sense more than half of those who criticize have never even played Sports, hated PE in High School, and do not live in this World to sweat.

I have previously played Sports, continue to play Sports and will continue to compete as long as my body permits. I know when you win, it's a sweet slice of Heaven. I know when you lose, it's like a dagger in your spine and soul while your face is on fire. Quitting? That is never an option..and it never will be. The best part of participating in competition is knowing if I lose, I have another chance to redeem myself the next day. I know that you will always live to fight another day..

With all that being said, what can be done to help this Football team? Is it the scheme? Is it the talent? Is it the fact we employ a Rookie Owner, Rookie GM, Rookie Coach and Rookie Defensive Coordinator?

Perhaps the answer lies in all of the above? Thoughts like these keep the Lord of the Sith, Master of all Evil, Darth Raider up all night.
Offense? That makes it 3 out of 4 games we can NOT get the ground game going. 34 yards for Run DMC is not a good day. Yes, I know that Zone blocking works well with other teams like Houston and Denver, but for Oakland?

Let's just say we currently do not have a successful History running this kind of blocking attack. We still have 12 games to go though, so let's hope we improve with every game.

Maybe Coach Knapp should buy a suggestion box. I would simply like to know if all of the Linemen are comfortable with this new blocking method in 2012.

If not? I wonder if there ever was a team to switch blocking philosophy after a Quarter of the Season.

Sigh...sometimes you're just simply damned if you do...damned if you don't.

Carson Palmer? Your stats look decent , your accuracy is fair and you are not throwing as many picks as I have foreseen. Third Down Efficiency though? You get a big fat, dirty, smelly F.

1/12 is simply not acceptable. Sure, there were others to blame for this as well but...

This team can't move forward without grabbing those key downs.

Denarius Moore? Welcome to the show, brother. 4 receptions for 71 yards is just the beginning of what the Raider Nation expects from you.

We in this thang, breh..

Defense? They showed up??!?! Really??

To put it plainly; if Defense wins Championships, NO Defense wins an early vacation. I know you guys have to get to the beach guys, but CAMON!

We have too many games to play! Where are the stops?!!? Where are the Blitzes?!?! Where is the coverage??!?! I have read about FIVE times today we have given up more points in these past 4 games than any other set of 4 in the Al Davis era. It's been more than 10 years since we stopped the run efficiently and I don't expect this problem will be corrected anytime soon.

My only hope is newly signed Andre Carter talks some sense into these guys and gets the fire burning again. If no change persists? We might as start looking at College draft picks very, very soon.

Damn, rebuilding sucks..

Special Teams? Nice blocked punt...just when you think it couldn't of gotten any worse...

NOTES from NFL.com game summary:

The Raiders have now been outscored 55-7 in the third quarter this season. Under new coach Dennis Allen - Denver's defensive coordinator last year -- they have allowed more points over the first four games (125) than in any year except 1961 and 1962, before the late Al Davis took over. This was their most lopsided loss in the series since a 44-7 defeat in 1962.

"It was nothing more than a good, old-fashioned butt-whupping," said quarterback Carson Palmer, who finished with 202 yards passing.

The Broncos, who had allowed Darren McFadden 508 yards and three touchdowns over the last four meetings, held him to 34 yards on 13 carries.

"He has been outstanding on this field and we knew going in that we had to contain him," Broncos cornerback Champ Bailey said.

Oakland came in without injured starting cornerbacks Ron Bartell and Shawntae Spencer, which has forced a number of changes - none of them for the better.

"It's hard to play against Peyton Manning no matter what," Allen said. "He's a Hall of Fame quarterback and there's a reason he's a Hall of Fame quarterback. But we've got the guys that we have, and that's who we've got to go out and play with and we've got to play at an NFL level."

Manning, who padded his record total of 300-yard passing games to 65, looked like the Manning of old - standing at the line, diagnosing a defense, then choosing, in most cases, to throw quick screens or crossing routes.

Decker had seven catches for 79; Manning spread his 30 completions to eight receivers.

The referees were no factor. They called nine penalties, five for 41 yards against the newly disciplined Raiders, who came into the game near the bottom of the league in that category and will stay there.

The Broncos, meanwhile, had amassed around $150,000 in fines over the first three weeks and, though there weren't any obviously finable infractions in this one, they played like bullies, outgaining the Raiders 503-237. Oakland didn't get its first first down of the second half until the 12:45 mark of the fourth quarter.

To read the entire summary, go to NFL.com

Raider Nation, I know it's a tough schedule, things look bleak and the cloudy skies are appearing everywhere in our lives..

But know that every bad moment is followed by a good moment. I don't know when it will turn around, I don't know how it will turn around..but at least I know..

IT WILL turn around.

POR VIDA RAIDER NATION!!!!

Charles "Darth Raider" Ybarra
​