Tale of the Tape: Lamarr Houston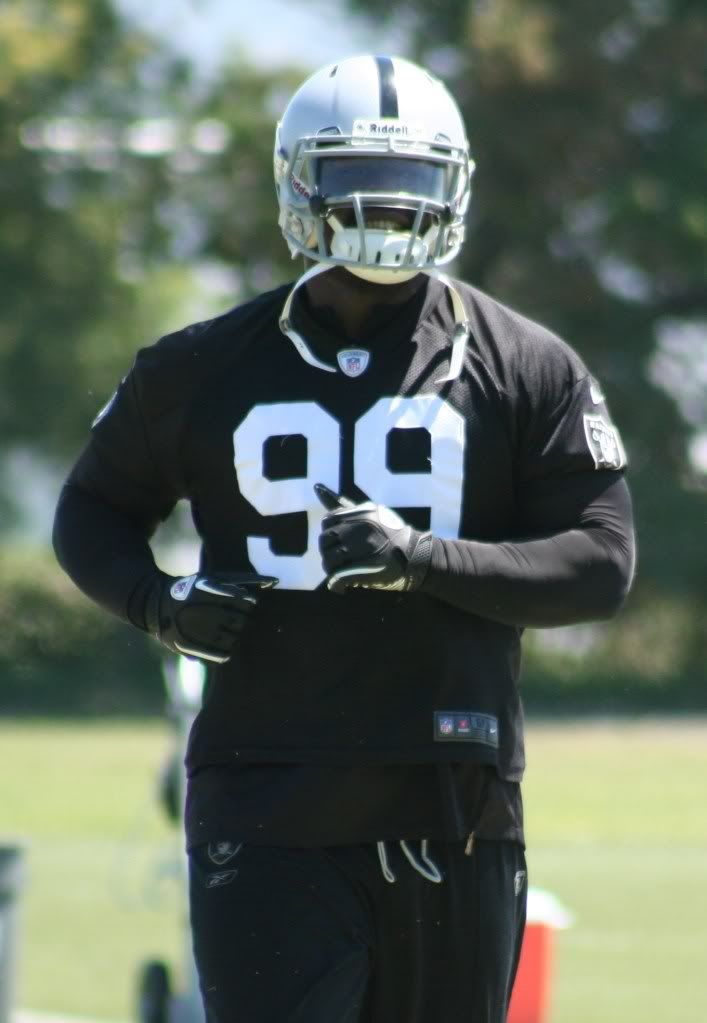 Lamarr Houston showed a lot of promise his rookie season in 2010 and many fans, media and, presumably, coaches thought he'd really be able to become a force at LDE last season. Houston did not have a bad season - he actually put up good numbers on tackles with 51 total - but his sack numbers dropped precipitately in 2011. Houston was only able to bring the QB down once last season and his personal inability to get to the QB was mirrored by the others on the defensive line.

I took some time to go through film to see what Houston can do and where his limitations lie. I watched two games from last season - game 4 versus New England and week 6 versus Cleveland.

First, some positives. When Houston is on, he's very powerful. He can really do a great job of setting the perimeter by pusing around the RT and driving him into the backfield. He's a strong run defender and can disengage from his man to make a tackle. He's also able to push his man to disrupt the RB who may be trying to bounce it outside and allow another player to come in for a tackle for loss, even if he isn't credited with the tackle.

More specifically, Houston's bull rush move was very good - not too surprising because the 6'3" 305 lbs Houston played DT in college. Houston has a good size/motor combination, being able to combine a bigger body with a sustained high energy effort. This high effort helps mask some of the deficiencies in his game just by shear force of will.

Let's talk about some of those deficiencies. First, Houston's effort can be very inconsistent. On some plays he bursts off the line and is able to bull rush the RT back and get himself into a disruption in the backfield but many times he's not as quick off the line. I especially noticed that he tends to give up on plays earlier if the call is a running play that goes to the right side of the defense. Elite DE players can make a great deal of plays on backside pursuit where they can close on a runner who tries to cut back. Houston did not show good backside pursuit and did not make plays when the runner went towards the right side of the offense.


On the other hand, if the runner ran towards Houston he showed a good ability to disengage the tackle and put himself in a position to win. Houston is a fairly stout run blocker and if he continues to grow in that area, he could become known as one of the better run stopping DE's in the league.

His pass rush ability, however, can use some work. In fact last year's coaching staff took him off the field in obvious passing downs. If he wants to be known as an all around player he'll need to work on this area. The lockout in 2011 may have been very detrimental to him in this regard.


As was stated above, Houston played mostly DT in college and so he can be forgiven for not learning more of the nuances of the DE position. One of his biggest limitations is reliance on his strength and straight-line speed. On any given passing play, Houston either tries to bull rush his opponent or tries to run around him and come around the back side of the QB.

Sometimes these moves work to great success but more often the tackles are able to quickly compensate for his lack of moves. As long as the RTs possessed average feet placement skills, the ability to move laterally and core muscles they could keep him off the QB most of the time. Specifically, the RTs were able to give ground on the bull rush but also redirect him out from the pocket. On the rushes where he tried to get around down field the RT could mostly continue to move him and redirect him too far down the field, effectively allowing Houston to take himself out of the play.

Great Ends must be able to work multiple different moves. For example, when watching Dwight Freeney - one of the most successful pass rushing Defensive Ends for the last decade - his ability to confuse and freeze opponents is key. Freeney has perfected 3-4 different moves and the tackle opposite him isn't sure which Freeney will use.

Houston would do well learning a spin move, for example. If he could learn to use a spin move effectively, he could use that straightline speed and good initial burst to start out down field and when the RT has bought that move and put his body in between Houston and the QB, Houston can engage the RT and spin inside towards the QB. A DE that can get down the field and use a spin move can be devastating to the offensive line because the tackle cannot be sure how to position himself. The DE forces the tackle to decide whether to take a line that will put him in a place to block if the DE keeps going or to block the spin move around and the DE can then dictate the play.

As an example, one his his pressures in the NE game resulted from an inside spin move that left the RT grasping at air. It would have gone for a sack if Brady were not so quick getting the ball out and to his receivers.

Houston's numbers seem likely to go up this year, anyway, because he had quite a few of those almost-sacks just in the two games I watched. Those plays resulted in pressures and sometimes hits but for a variety of reasons, the QB was able to get the ball out just as Houston was getting to him.

This offseason will be critical for Houston to show that he can be an elite force. The Raiders want him to be a great run stopper but will hope that a full offseason will help improve his conditioning and teach him additional moves so that he can be on the field more, even in obvious passing situations.

RDE is likely to be a hopefully healthy Matt Shaughnessy and newcomer Dave Tollefson, while versatile, lined up at RDE a majority of the time while in New York so Houston's backup will likely be either Desmond Bryant or Rookie Jack Crawford. If Houston can show enough improvement, it will allow the coaching staff to be more comfortable with the End position and potentially free up a spot at a position of higher need when cuts come.

For more Raiders news and analysis, follow me on Twitter @AsherMathews