What we've learned about the 2012 Raiders so far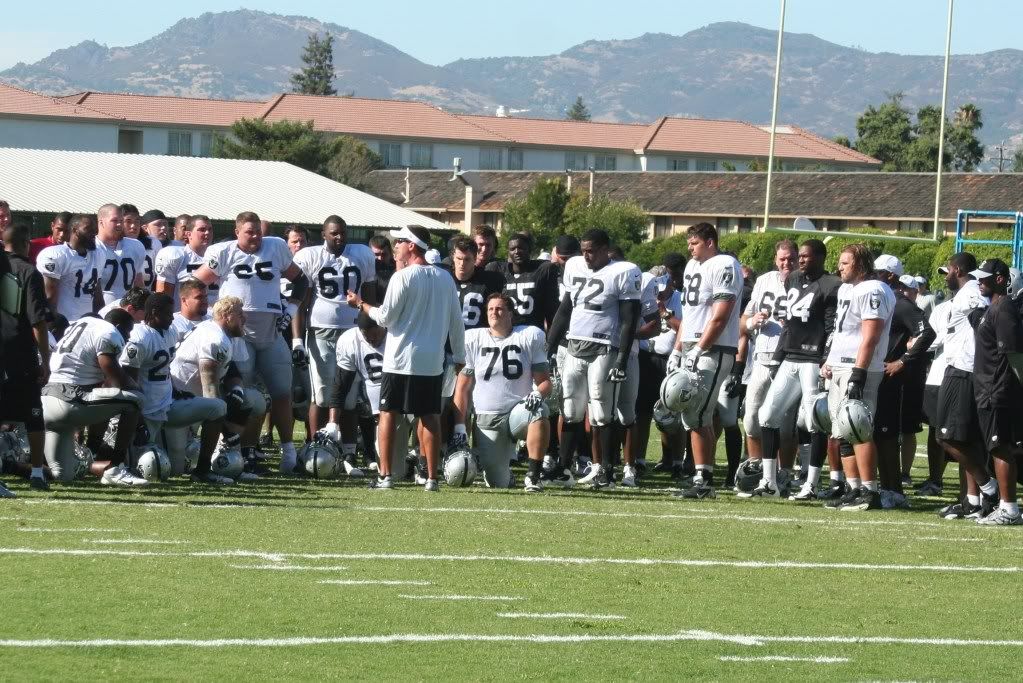 The Raiders training camp is now over a week old and TFDS will reflect on some of what we can learn from this team's practices to date.

*The team has some serious speed at running back – if it can see the field.

We all know about Darren McFadden's effortless glide and how he's able to turn on a fifth gear at times to push for the extra yards.  Everyone is also aware that he's struggled to stay healthy each season and has yet to play in all 16 games.  McFadden looks great in camp and, if healthy is poised for a great season, it appears.

His backups are not as healthy right now.  2nd year back Taiwan Jones has struggled with a hamstring injury throughout camp and has not seen much of the field.  When healthy, he looks like he is the fastest player on a very fast team but he needs to get healthy to get playing time.

His main competition for backup running back is Mike Goodson who was acquired via trade from Carolina in the off-season.  Goodson was having a great camp until Tuesday when he was hit hard by LB Philip Wheeler and ended up being carried off on a backboard to the Emergency Room.  Thankfully MRIs came up negative and Goodson rejoined the team that same evening but it's unknown how long he'll be out.
*The defensive backs appear to be improved.

Tyvon Branch is perhaps the best player on the defensive side of the ball and looks like he may be in for a true breakout season.  Mike Mitchell (of whom I've been openly critical) has turned in a solid camp, coming up with some key coverage plays including an interception.

Many media and fans thought that 2nd year cornerback Chimdi Chekwa would compete for a starting spot alongside Ron Bartell.  Bartell looks to be the real deal – a big, physical player with good coverage skills – but instead of Chekwa being the favorite to start next to him, fellow second year player DeMarcus Van Dyke has really stepped forward and been the talk of the camp this year.

Van Dyke is in a tight competition with veteran pro Shawtae Spencer who has had a very up-and-down camp.  Van Dyke has bulked up a bit in the off season and has worked on his recognition skills while in coverage.  Many times last season he was in or near position to make a play but did not recognize that the ball was in route to make a play on it.  This camp he's been much better about reading the reactions of the receiver and getting his hands up to deflect passes.  While he's not in shut-down territory, his ascension has been quite a pleasant surprise.


*The rookies appear to have some talent.

The most talked about rookies have been receivers – 5th round WR Juron Criner and undrafted free agent Rod Streater – both of whom are large, big bodied receivers and both of who possess good hands.

Streater and Criner have both looked good in camp.  They both do have some inconsistent practices but both appear to be locks to make the final roster even if the Raiders only take 5 wide receivers.

Other rookies have flashed in camp, though, as well.  DE Jack Crawford has had some disruptive session in which he has been able to surge through the line for a sack (at least if the defense were sacking the quarterbacks which they are not).  Christo Bilukidi has had some time at DT.  He is also competing to play the Nose Tackle position in both the 4-3 as a backup and in the 3-4 as a backup or the starter.

OL Tony Bergstrom has mostly played as a 2nd team LG but he's seen some time at RG as well in an effort to make him as versatile as possible.  He's unlikely to be the starting LG at this point, barring an injury to Cooper Carlisle, but he's shown flashes as a backup at both guard positions.

LB Miles Burris has been starting at Will position because incumbent Aaron Curry is on the PUP list with a knee injury.  Burris has shown some good plays and is a solid player but has not been spectacular.  He, like most rookies, struggles with inconsistency and has very up-and-down practices as well.

Fellow rookie Nathan Stupar has not been as noticeable as his fellow rookies but looks to be likely a practice squad addition at worst.  Because of the lack of depth in the linebacking corps he may still make the squad as a backup but he has some room to grow and learn to be an impact player.


*Penalties appear to still be a concern.

The Raiders have had 6 padded practices at this time and in each practice where there are pads, there have been a plethora of defensive off-sides calls.  Perennial offender Tommy Kelly has had his fair share of penalties and continues to try to anticipate the snap of the ball.  He is aware of the problem and has admitted it has been difficult to change his habits.  Head coach Dennis Allen is also aware of Kelly's struggles and said they would be trying to "incentivize" Kelly to help him give up his propensity to jump prior to the snap.  As the team is not able to fine a player for penalties, per the CBA, it's likely that the incentives will be playing time but Allen did not explain what he meant.

Kelly is not the only defender, however.  Many of the tackles, ends and even linebackers have been susceptible to jumping prior to the snap and this will need to be a focus of the coaching staff over the next few weeks or the team will struggle with penalties again this year.


*The staring lineup appears to be mostly set.

The coaching staff has been fairly reluctant to mix up the starting lineup much and there has been no real change to the starting 22 players since the very first time the media was allowed into OTAs back in May, after the draft and free agency.

Allen has said that they will not shift positions based on a good practice or two but if the team is going to shift the lineup it may happen soon as they will want to have their starting lineup in place before too many preseason games go by.

The Raiders did release their first depth chart.  There is a link to it here.


*The Raiders may be a bit undersized on the defensive line.

The Raiders were hoping that NT Travis Ivey would be their large player to clog up lanes in the middle but he showed up to camp unable to pass the team's conditioning test and was released.  With Ivey's release the team is without a true Nose Tackle to play over the center.  This is especially worrisome because the team would like to mix in 3-4 but do not have ideal personnel for that alignment.

Tommy Kelly will be handling starting Nose Tackle duties this season but he is a better fit as a 3 technique DT.  Rookie Christo Bilukidi is also more of a 3 technique DT after playing DT and some DE in college.  Richard Seymour is another player who can play both DT or DE and he will be the team's starting 3-technique DT.

Because the Raiders lack that force to clog up the middle they will have to play very disciplined defense, something they have struggled with in the past.  There is no guarantee that the Raiders will be able to stop the run any better this year because their lack of bulk may be a detriment in the run game.

Overall, the Raiders have some good things going for them as well as some questions.  It will be enlightening to see the team play in the preseason to see how they match up against an opponent when they are playing to win.

The Raiders play their first pre-season game against Dallas next Monday Aug 13th at the O.co Coliseum at 5:00pm PT.

I tweet a lot during training camp practices with more insight or thoughts about the Raiders team.  Follow me on Twitter @AsherMathews