Carson Palmer working overtime to start Sunday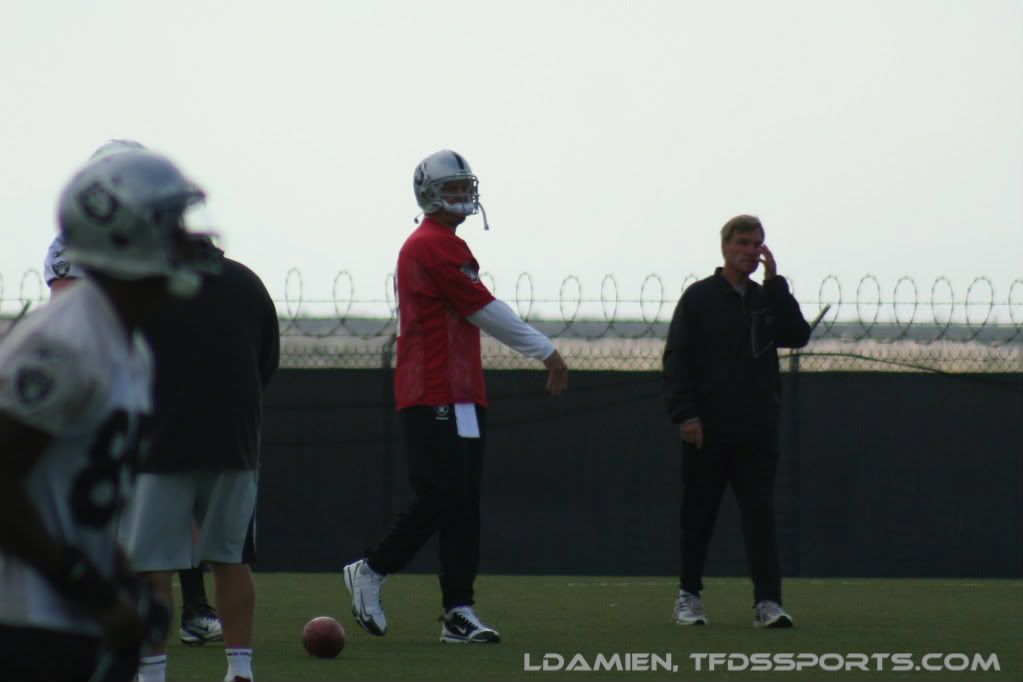 Hue Jackson is not budging on who will start at quarterback this Sunday versus the Chiefs. It seems that he has an inkling of who it will be, but Palmer claims he won't know until Friday at least. He claims not to have made a decision and will not make his decision until Friday at the earliest. It will not be an easy decision, but Hue says that's just how he likes it.
"I have some concerns. I do," said Jackson. "I kind of like that. I kind of like it like that. I think [Palmer] kind of likes it like that. I think we all do. But we'll make the right decision for this football team. We've got a game to win, and that's the most important thing. Whatever I think is going to help us win this football game, that's what I'm going to do."

In the meantime the pressure is on for the Raiders' new franchise quarterback, and he is working round the clock in an attempt to get on the field.

"I stuck around after practice," said Palmer. "Got a little extra work, got work during practice. It's just something that's gonna take time and the only way to get there is by getting lots of extra reps, sticking around after practice, getting in as much work as you can when you can.

"There's nothing else to life right now. You eat and you do football stuff. Whatever it is, whether it's lifting, conditioning, studying, whatever it may be, watching film. You just have to, there's such a short amount of time that you just cannot be doing enough.

"Today's Wednesday. Sunday's a long ways away. I won't know anything until Thursday, until I see how I feel after Thursday's practice, after Friday's practice, after Saturday's walkthrough and then game day. Sunday's a long ways away right now. I've got so much to do and so much work to do before I get to Sunday."

The most common statement from Hue and his players today in regards to Carson Palmer was how fast all of this is happening. Everyone is dying to know how quickly he is progressing, but after just one practice, it is impossible to gauge. Palmer knows he has a lot to work on from now until Sunday.

"Rusty. Definitely rusty," Palmer said of his play so far. "Good to be back in it but definitely have some rust to wear off. I haven't thrown to NFL receivers in a while, whether it's been highschool kids or my brother. I've had one NFL guy to throw to in TJ Houshmandzadeh but other than that I haven't thrown to guys that can run like this, and lots of guys that can run like this in seven on seven situations and team situations, things like that."

The first thing Palmer said jumped out at him about his new receivers is their speed. Perhaps the speediest of his receivers is last week's star, Jacoby Ford. He likes what he sees from his new quarterback so far.

"I think practice went extremely well today," said Ford. "We all went out there with good intensity and great focus. It was good to see Carson out there starting to get the reps. It will take a little time to get used to us and get the timing down. But he looked good for the first day... We haven't really talked about it yet because everything happened so fast, especially on a day off. We're definitely excited to have him here."

Jacoby spoke on the difficulty that lies ahead of his new quarterback to start on such short notice: "I think it definitely would be difficult just because you haven't been in the offense at all. You have to try to pick up the whole entire offense and learn all the reads in everything, especially when you don't know all of your receivers. Definitely it would be difficult."

But Hue Jackson denied any reports that suggested he had decided on his starter. And he urged reservation of judgment on Palmer so early on.

"It's one day," said Jackson. "He's going to go back tonight, and go in after practice and I've got to see where his body is. That takes time; I'm not in a rush. I don't have to rush that decision. I'm going to take my time and see where they are and see how fast he picks up the system, see how fast he gets in line with his teammates and we'll kind of go from there."

If you go by Hue's "living on the edge" mantra, you have to believe that it will be Palmer trotting out there on Sunday. But don't expect Hue to tip his hand before then. It may just be enough to keep the Chiefs guessing. And that works in the Raiders' favor regardless of who lines up behind center.

Also see:

Palmer wakes to fresh start in Oakland

For Raiders, Carson Palmer is worth it

Raiders go for broke with Palmer trade


Follow me on Twitter @LeviDamien or befriend me on Facebook.

[follow]
it doesn't really matter to me. as long as we get an overdose of mcfadden & bush, we will win.
I'm not really sure what to think since NFL network has been saying that its been confirmed that Carson will start. If he does start then I think the risk is too high. I know Carson and Hue have a lot experience with each other but that doesnt mean Carson will have any sort of timing with the o line or our receivers. I definitely don't feel comfortable with Boller long term but I think he could get it done for us against the chiefs. That would then allow us to get Carson acclimated with our receivers, o-line and a lot more of our playbook. With that being said, KC is 21st against the run so regardless who is under center; we need to heavily lean on the run. I mean like 30-40 touches between bush/mcfadden. That way who ever is at center will be limited for their chance to make mistakes. I love the idea of Palmer but this might do more to hurt us than help us if we start Palmer. I just hope if we start Boller then his timing is better than it was last week because I remember at least 2 big throws he just didn't make because of his lack of timing.
that's why they will remain to be tight lipped... just as Al was.
yes i'm very torn on the matter. don't know what you guys think about it. if he can throw the ball around with some kind of accuracy, then you want to lean toward yes. but here's a real question, what about our OL not knowing his hard counts very well? what about having false starts galore on sunday with a brand new signal caller behind center? if he doesn't know the terminology yet, there could be some big confusion out there... any of the NFL's elite QBs would have trouble going on the the field this fast on a new team. it's very hard to say what happens on sunday, but what i do know is, it will be a much closer game with Boller playing. this will be no blowout as i don't see us running up and down the field all day against KC.