Upon further review: Does Hue Jackson have legitimate gripe?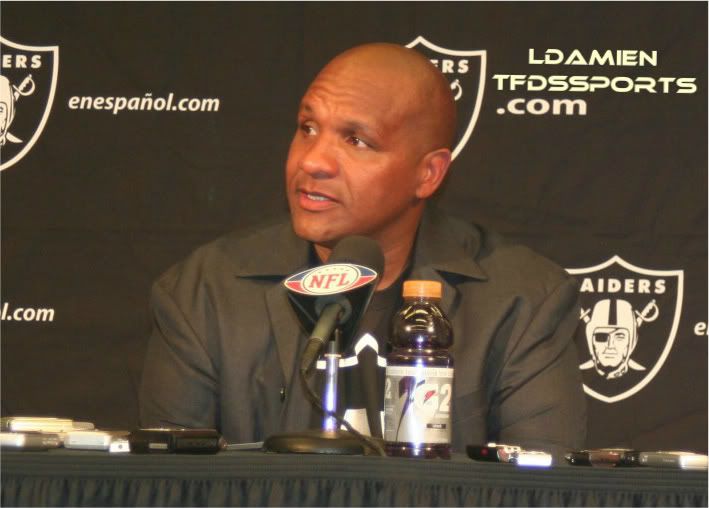 After the game in Minnesota this week and the Raiders' latest penalty fest, Head Coach Hue Jackson was extremely frustrated with the calls the officials made on the field. He also did not appreciate what he perceived as a lack of explanation he received for some of those calls. But did he have a legitimate gripe? We go to the tape and examine it.
Here is some of what Hue Jackson had to say after the game as he aired out his grievances:

"I am going to reach out to the league myself personally. I normally don't complain about officiating. I don't make any bones that way because I said I wouldn't. But today, I just truly felt like it was a little unfair. I really do.

"I understand that I am a rookie head coach, and maybe I don't get all those calls. And that is fine. But at the end of the day, I am going to protect my football team, too.

"I know everyone says we are the most penalized football team in football, and that's a fact, and I am not running from that. But there is no way that some things that happened today in that football game (happened)."

Originally I didn't see a whole lot of calls that would prompt such a strong reaction from Jackson. There were a lot of penalties on the Raiders in this game. Twelve for 117 yards to be exact. But committing a lot of penalties doesn't necessarily mean there was something fishy going on—even though the Raiders have long been the favorite target of the yellow hankies.

So I went back and looked a little closer. I broke down each and every penalty called on the Raiders (and if you think I am going to go through the entire game for no-calls, you are out of your mind). This is what I found.

The first penalty called on the Raiders came midway through the first quarter. Tommy Kelly rushed around the left edge and with his only free arm he reached out and pulled Christian Ponder to the ground. He was flagged for a blow to the head. The problem was, he never touched the quarterback's head. I have also seen similar armed takedowns by other defensive linemen on quarterback rushes that were called great plays. Ndamukong Suh had one last season on Mike Vick in a nearly identical play.

Verdict: Bullsh*t


On the very next play, Aaron Curry was called for a helmet to helmet hit to a defenseless receiver. Vikings tight end Kyle Rudolph caught a short pass and Curry was there to hit him hard just after the ball arrived. The rule states that if the receiver makes a football move, he is no longer deemed a defenseless receiver. It appears as if Rudolph is able to make a football move. He catches the pass and lands and turns up field and Curry nails him. The problem here as I see it is not the officials so much as the rule. No review is allowed on such a call and with the naked eye the play happens so quickly, it is hard to know if a football move was made. There was no doubt about the helmet to helmet contact.

Verdict: Borderline


These two calls were part of what drew much of Hue Jackson's ire:

"You know, I don't even know what football is any more. I don't know what hitting is. I don't know what tackling is. I have been in this game a long time and I can't tell you what hitting or tackling is, or what a personal foul or even what anything is any more."

But to be fair, on the same drive the Vikings looked to have scored on a 35 yard touchdown only to have it called back for holding downfield. The penalty cost them 27 yards and the touchdown. So the officiating wasn't all against the Raiders.

But no sooner do I point out the balance in officiating than Tyvon Branch is called for a facemask penalty. Again the problem is that is just didn't happen. There was no facemask. Tyvon had the shoulder pad, plain and simple. The penalty yardage was tacked onto the catch and it put the Vikings at the 13 yard line where they scored a touchdown on the next play.

Verdict: Bullsh*t


There was just one penalty called on the Raiders in the second quarter, which was part of the reason they were able to do most of their scoring in that quarter.

The only penalty was a holding by Jared Veldheer on NFL sack leader Jared Allen. And he sure held him, all right. Textbook holding.

Verdict: Legit


The third quarter had the Raiders on their best behavior as well. Or if you prefer: the refs on their best behavior.

There were two penalties. Demarcus Van Dyke was called for unsportsmanlike conduct for running out of bound on kick coverage. He did run out of bounds.

Verdict: Legit


Then the Raiders got a little favoritism when Hue pointed out to the ref standing right next to him that Kyle Rudolph wasn't set at the snap and Rudolph was called for an illegal shift. The penalty negated a 15 yard gain by Rudolph in the play.

The other penalty was a Khalif Barnes false start. And, yeah, that definitely was a false start.

Verdict: Legit


Then came the fourth quarter and the drive that really got Hue steamed.

The first penalty was Lito Sheppard being called for pass interference. The refs described it in the call by saying he grabbed the receiver's arm with the ball in the air. Yeah, he did it.

Verdict: Legit


The next play Rolando McClain was called for illegal contact. There was no visual shown for me to say one way or the other. A few plays later Mike Mitchell was called for holding and they didn't show that either.

But the problem that Hue had with these calls was the lack of communication by the refs.

"As a head coach of this football team, I have to look out for my players also, and there was a string of calls there where I will go back and see them and review them. But at the end of the day, the description on what was said to me, I just didn't feel that (was satisfactory).

"Sometimes I would get brushed aside. Sometimes I would get talked to as if they didn't know what I was asking, and I just don't think that is fair. I asked several times for explanations and I wouldn't get them."

The biggest call on the drive was made on Desmond Bryant. Lito Sheppard had tackled the runner for a loss on a play the Raiders strung out. Bryant was on his way to help with the tackle and ensure its success, as defenders are taught to do. He was called for a blow to the head of the runner after he was down. Yes, the runner was down but first of all, there was no blow to the head. None whatsoever. Secondly, he let up when he got there. He didn't come down with all his weight on the runner with a late hit.

Verdict: Bullsh*t


The next Raider penalty was Darryl Blackstock called for holding on the return. The call was one that should not have been made. It was hard to tell exactly what was seen as holding on the play, but that doesn't mean there wasn't a little jersey grabbing.

Verdict: Borderline


Again, the officials showed they were equal missed opportunity when they called the Vikings for defensive holding and illegal contact on the Raiders drive just as they had against the Raiders on the previous Vikings possession.

The final penalty was Shane Lechler being called for delay of game. That penalty was intentional to give Lechler more room to punt. No verdict necessary.

So of the 12 penalties called on the Raiders in this game, three were clearly bad calls. All of them involved blows to the head. Well, one was a facemask but that still involves the head and it was still a 15 yard penalty and automatic first down just like the others. There were also two borderline calls. Sure, Raider fans will argue that the borderline calls I mentioned were not borderline at all. But that is part of what makes them borderline—the eye of the beholder.

The beholder with the biggest grievance in this game was Hue Jackson. So did he have a legitimate gripe?

Verdict: Yes, I believe he does.


The blow to the head rules are fairly new and the officials are still having some difficulty translating them. They are quick to pull the flag when they even suspect it falls into the category of a blow to the head. That grey area typically does not favor the Raiders. When the three bad calls are all of the 15 yard variety, it really makes a big difference.

Also, Hue does have a right to an explanation just as the rest of us do. The penalties on the Vikings' late fourth quarter drive were coming on nearly every play, leading to a drive made up almost entirely of penalty yards, two of which remain unknown and not communicated and the other was a bad call.

The Raiders had already seen the Vikings score two touchdowns in the quarter to come within one score of the lead. It was only thanks to a Stanford Routt interception that the Vikings didn't take that penalty awarded drive for a touchdown to take the game.

If Hue's anger and speaking up calls attention to this, then it can only be a good thing.


Follow me on Twitter @LeviDamien or befriend me on Facebook.

[follow]