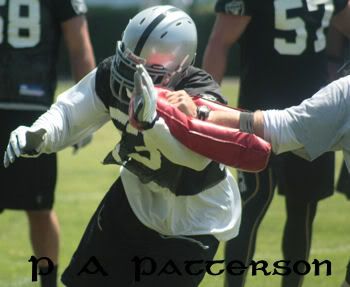 (Photo by P A Patterson/TFDSsports.com)
The Oakland Raiders have fourteen players who have expiring contracts and are set to become free agents on March 5th. With this being an uncapped year, players who would be getting their first chance at unrestricted free agency are going to end up being restricted free agents, which will limit their options for movement.
The Raiders are going to have to make decisions all of these players in the coming days. Many more than usual are going to be restricted free agents because of the lack of a collective bargaining agreement. These players will have to be tendered so the team can retain the rights of first refusal, as well as receive draft pick compensation for any restricted free agents lost.
Charlie Frye-RFA-QB
Frye joined the Raiders late in the past offseason on a one year contract. He was noted for his hard work by Coach Tom Cable, but his performance on the field was less than spectacular. He would be worth keeping around as a back-up.
Offer low tender
Bruce Gradkowski-RFA-QB
Gradkowski relieved Russell after the latter was benched during the week 9 game against the Chiefs. Gradkowski breathed life into the Raider offense that it had not seen all season. His leadership and work ethic rallied the team, and he led one of the great fourth quarter comebacks against the Steelers.
Keep
J.P. Losman-UFA-QB
Losman was added to the roster late in the season after Gradkowski was injured. He was coming off a season where he led the Las Vegas Locos of the UFL to their championship. He had only one play on the field as a Raider and was 0-1.
Let go
Gary Russell-RFA-RB/FB
Russell served well as pass catching and occasional running fullback. With the uncertainty at fullback, it would behoove the Raiders to keep Russell around. He was acquired after he was released by the Steelers and likely won't garner much attention.
Offer low tender
---
Related Articles
Sebastian Janikwoski-UFA-K
SeaBass is coming off the best season of his career. He only missed three field goals, and two of those were from outside of 50. He nailed a 61 yard field goal in Cleveland. He is one of the top kickers at getting touchbacks on kickoffs.
Keep
Khalif Barnes-RFA-OT
Barnes was expected to be an upgrade for the Raiders at offensive tackle. He and Mario Henderson were expected to be bookend tackles. However, he was injured in training camp, and when he came back, he could not find his groove at all. He was benched for the remainder of the season.
Low tender
Cornell Green-UFA-OT
Green has been the weak link on a mediocre line for the past two years. He is a penalty and sacks allowed machine.
Let go
Langston Walker-UFA-OT
Walker was brought in midseason. He filled in admirably at both guard and tackle. The Raiders should bring him back next year to compete for the right tackle position, or a back up swing guard tackle position.
Keep if reasonable
Chris Morris-UFA-C/G
Morris has been solid as a fill in guard and center. He has struggled at times when he was thrust into the starter's job. He is not a priority resigning.
Keep on the cheap
Richard Seymour-UFA-DE/DT
Seymour was brought in at the end of the preseason in a trade with the New England Patriots. The Raiders gave up a 2011 pick for his service. The Raiders will either tag him or sign him to a long term deal.
Keep
Ricky Brown-RFA-LB
Brown has been a solid special teams player, but has underperformed at linebacker. He has also finished the last two seasons on the injured reserve. He is not a priority either to resign.
Keep on the cheap
Kirk Morrison-RFA-LB
Morrison has been the leading tackler on the Raiders for the last four years. He has had 90+ tackles for each of his five years. The lack of the CBA gives the Raiders an advantage with Morrison by making him a restricted free agent. He is often criticized for not plugging the holes.
Medium tender
Thomas Howard-RFA-LB
Howard made a splash early as a coverage linebacker. His biggest asset is his speed, but he has not been a sure tackler. As a former second round pick a low tender would give the Raiders a second round pick as compensation if another team makes an offer the Raiders won't match.
Medium tender.
Stanford Routt-RFA-DB
Routt has been extremely average as a nickel back. He could be easily replaced, but it would be easy to do worse.
Low tender